Top 50 des pages Facebook (en HTML)
Posté par le 11/12/2009 dans
E-Reputation - Définition
,
Personal Branding
|

0 comments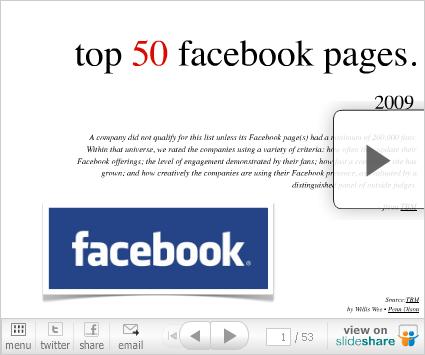 Suite à la sortie du no fax payday loans
.thebigmoney.com/slideshow/big-money-facebook-50-0″ target= »_blank »>Top 50 des « fan pages » par TheBigMoney, sous forme de présentation SlideShare (ci-dessous), voici aussi une version dans un bon vieux tableau HTML, moins joli, mais selon moi plus pratique.

Top 50 des PagesFacebook en tableau
#

Marque

Followers

Description

1

4,007,785


What´s on the page: « Coke took my teeth. No regrets! », a fan wrote on the company´s wall.
What´s cool: This page was created by a fan and his buddy. The page grew exponentially and caught Coca
Cola´s attention. The soft drink giant made this page
official while keeping the creators in control of the page.
Like what TBM said, the result is an organic fan-centric
page without a corporate feel.

2

5,116,222


What´s on the page: Most people are declaring their
favorite drinks and wishing they could have them now. Oh
and Starbucks has this "Around The World´ tab that brings
you to the Facebook page of your location.
What´s cool: According to Charlene Li, Starbucks is top in
terms of web engagement. It is the brand with the most
number of Facebook fans so far.

3

2,432,350


What´s on the page: A mixture of old school cartoons and
new movie trailers. Fans shared over 3,000 photos of their
Disney experience. It just makes you feel happy when
you´re on this page.
What´s cool: If you can´t afford to go to DisneyLand, its
Facebook Page is the next best alternative.

4

1,087,402


What´s on the page: It introduces interesting apps (like
gaining access to Victoria´s Secret backstage) and of
course, music.
What´s cool: Within a week of launching this page in May,
Apple´s digital downloading service iTunes already hit
more than 1 million fans.

5

1,087,402


What´s on the page: It introduces interesting apps (like
gaining access to Victoria´s Secret backstage) and of
course, music.
What´s cool: Within a week of launching this page in May,
Apple´s digital downloading service iTunes already hit
more than 1 million fans.

6

1,087,402


What´s on the page: 50 sound lab and flavorcreator apps
look fun.
What´s cool: Vitaminwater + New Moon advertisement.
Interesting but not very inspiring.

7

3,757,302


What´s on the page: Hot videos and blog posts are
regularly updated on the page.
What´s cool: They had a public challenge to surpass stars
like Lady Gaga, Vin Diesel and Megan Fox in terms of
number of fans. They failed but managed to get more
than 600,000 new fans.

8

1,224,680


What´s on the page: It is the first page I have seen so far
that has its menu on Facebook. It is the simplest way to
attract people to dine at your restaurant, isn´t it?
What´s cool: Chick-fil-A was the first restaurant page to hit
1 million fans on Facebook. It reached this milestone in
August.

9

1,632,168


What´s on the page: Redbull connects with fans using
sponsored athletes. The integration of its Facebook and
Twitter profiles is seamless.
What´s cool: Red Bull´s latest app, called Red Bull Stash,
maps out a real-life scavenger hunt for fans.

10

1,022,037


What´s on the page: Fans making "noises". Its website uses
the familiar dining crowd noise to remind customers the
warmth of dining at its restaurant. Splendid.
What´s cool: T.G.I. Friday´s ran a television ad this fall with
an enticing premise: Become a fan of this guy and you
get a free burger, but only if the page reaches half a
million fans before October. The restaurant chain reached
its goal by Sept. 13.

11

3,522,390


What´s on the page: Fans flood the page with positive
comments.
What´s cool: Skittles is Tweep´s favorite candy too.

12

958,388


What´s on the page: The page is flooded with fans´
declaration of their favorite donuts.
What´s cool: While most fan pages use corporate logos as
their profile pictures, the doughnut and coffee retailer
uses the space to honor its "Fan of the Week" contest
winner.

13

1,022,037


What´s on the page: Isn´t the best place to buy your stuff
definitely. There are more negative comments than
positive ones. There seems to be a problem with its
customer service.
What´s cool: This fan page is dedicated for people to
complain.

14

1,722,545


What´s on the page: Videos and apparels updates.
Basketball leagues rule Facebook. It has more fans than
any other sport.
What´s cool: NBA sells its apparels using credits. Find the
apparels under the gift section.

15

2,164,437


What´s on the page: Shoes, clothes and events. Adidas
uses images to its advantage.
What´s cool: The page looks cool with all the images but
its logo could be sharper.

16

1,022,037


What´s on the page: Which flavor pastry do you like more?
Questions, comments and contests flood the page.
What´s cool: Its flavor tournament app helped it to gain
15,000 fans a day.

17

1,160,881


What´s on the page: Krispy Kreme is highly engaging. It
thank fans and humanize its brand. Less spam more warm
is its key to success.
What´s cool: Asking questions as a way to engage fans
simply works.

18

616,613


What´s on the page: A page that is free for fans to post
their thoughts. Mountain Dew personally congratulated its
500,000th fan in September.
What´s cool: Dew-mocracy allows fans to help Mountain
Dew build its next ad campaign.

19

588,404


What´s on the page: Customers are complaining about its
Black Friday and Cyber Monday failure. Hmm not a very
good way to be on top 25. No reply from the company so
far.
What´s cool: Nothing is cool for a company that doesn´t
reply promptly to complaints.

20

740,542


What´s on the page: According to TBM, Papa John´s
gained 200,000 Facebook fans by offering a free medium
sized pizza to anyone who signed up to its page. The
promotion was so successful that Papa John´s is repeating
it again this month.
What´s cool: There are a total of 71 Papa John´s
Facebook pages! (For different locations)

21

719,924


What´s on the page: Gorgeous animation and regular
updates to keep fans engaged. Pixar released a Toy Story
remix video on YouTube with a link to its Facebook page.
It helped Pixar gain more than 9,000 new fans.
What´s cool: You got to check out its fan board. Looks
awesome.

22

589,496


What´s on the page: National Geographic loves to share
with you its images, knowledge and experience. Pretty
awesome!
What´s cool: Get 12 issues of National Geographic for $12.
Only for Facebook fans!

23

1,456,095


What´s on the page: McDonald´s pushing information out
to its fans. The amount of feedback is crazy.
What´s cool: McDonald´s Facebook fans count
experienced a sudden jump after it took down all the
unofficial pages.

24

1,367,179


What´s on the page: Fans are basically running the page
with many wanting H&M to be available in their cities.

What´s cool:1580 photos uploaded by fans. It just shows
how much they love H&M.

25

486,391


What´s on the page: The fans run the show. You can hardly
see any updates from Gap itself. Despite that, it has
gained more than 100,000 new fans since the launch of its
"born to fit" fall ad campaign.
What´s cool: Its "send a customized holiday cheer" app.
Over 20k cheers have been sent out so far. Pretty viral.

26

1,430,286


Description: There was noticeably more activity on the fan
page for Hershey´s Reese´s peanut butter cups around
Halloween time.

27

898,760


Description: The ice cream company posts contests and
promotions that encourage high fans involvement.

28

726,880


Description: After Kohl´s (KSS) purchased a Facebook
homepage ad in August, it was named the fastest
growing page that week by Inside Facebook. The
department store´s page had fewer than 10,000 fans
before the ad went up, and it gained more than 350,000.

29

451,834


Description: High frequency updates and a weekly
giveaway keep fans of the fashion retailer engaged.

30

987,761


Description: An ice cream company would know that you
can have too much of a good thing. Ben & Jerry´s doesn´t
overwhelm its Facebook fans with too many posts. "We
don´t have a magic rule or formula for how often is the
´right´ amount," a company spokesperson told TBM over
e-mail. "I can tell you, we over-posted once, and fans
didn´t like it."

31

1,271,064


Description: Coordination with retail stores keeps
employees and customers of the sportswear company
involved with the page.

32

761,342


Description: When fashion house Louis Vuitton streamed a
live fashion show on its page in early October, it gained
more than 60,000 new fans.

33

654,750


Description: CNN.com joined forces with Facebook
Connect for its coverage of Barack Obama´s
inauguration. More than 2 million Facebook status
updates were published through the news network´s live
feed during the ceremony. CNN is a division of Time
Warner (TWX).

34

2,788,810


Description: Pringles, the chip company owned by Proctor
& Gamble, has an impressive fan base even though it
rarely updates its page

35

330,220


Description: Pizza Hut, a subsidiary of Yum Brands, created
a Facebook app that facilitates pizza ordering.

36

330,220


Description: Cond&eacute Nast´s fashion magazine gets positive
feedback when it promotes its editorial content and
magazine-quality images on the page.

37

913,729


Description: Apple (AAPL) started "Apple Students" as a
sponsored group when the Facebook community was
almost exclusively college kids. Even though Facebook
has since grown, the electronics retailer´s page is a good
place to deliver targeted messages to this audience.

38

913,729


Description: The soda company, owned by the Dr. Pepper
Snapple Group (DPS), regularly posts fans-submitted
photos to its wall.

39

337,550


Description: The footwear retailer does a good

40

379,419


Description: This summer, Six Flags hosted the "Tournament
of Thrills" competition on its Facebook page where fans
could vote for their favorite roller coasters. More than
85,000 votes were cast, and the amusement park´s fan
base more than doubled during the promotion.

41

1,146,737


Description: Viacom´s MTV page has a good ratio of
"likes" to comments. The music channel maintains a fastmoving
page with consistent fan engagement.

42

345,951


Description: A fan photo gallery includes more than 9,000
photos of fans and their Harley-Davidson bikes.

43

652,345


Description: Target´s page gained 97,091 new fans
through its two-week "Bullseye Gives" campaign. During
which, fans could vote for which charity they thought
most deserved Target´s donations. (St. Jude Children´s
Research Hospital won the most votes.) The retailer
reported that daily views of the page jumped by 4,800
percent.

44

386,617


Description: Automaker, Audi seeks out fans´ feedback. It
hosted a campaign encouraging fans to discuss what its
next car should look like, and the company recently
posted a survey asking fans what they wanted from the
page.

45

363,494


Description: PepsiCo.´s Gatorade set up an app that
encouraged users to vote for their favorite moment in
Michael Jordan´s career. More than 8,000 votes were cast
on the sports drink´s page.

46

1,600,026


Description: Fans from all over the world express their love
for this clothing retailer on its Facebook wall.

47

673,906


Description: Yum Brands´ fast food chain, Taco Bell is
responsive to fans´ comments and receives strong positive
feedback whenever it posts promotions.

48

942,629


Description: This restaurant chain has a fast-growing and
devoted fan base.

49

334,520


Description: Phillips-Van Heusen´s clothing retailer, Calvin
Klein regularly announces sales and posts coupons.

50

542,169


Description: The satirical newspaper doesn´t do much
besides posting its content on its page, but it still maintains
a steady, engaged fan following.